ThingPark Enterprise SaaS Starter Pack
ThingPark Enterprise SaaS Starter Pack is a 1-year subscription to Actility ThingPark Enterprise LPWAN infrastructure hosted on one of Actility's regional datacenters. It leverages our geo-redundant fully managed 24*7 SaaS platform. The Starter Pack includes a software license for up to 3 gateways and 50 devices, including evolutive maintenance and support.
If you deploy more than 3 gateways / 50 devices, you can upgrade your license using a flexible model based on number of devices or gateways:
ThingPark Enterprise SaaS device-based license: choose to pay per device with an unlimited number of gateways (optimized for low-density multi-sites)
ThingPark Enterprise SaaS gateway-based license: choose to pay per gateway with an unlimited number of devices (optimized for high-density sites)
All our SaaS licensing options natively operate in High Availability mode over a geo-redundant cluster, offering best-in-class service reliability and ensuring fault-tolerant service continuity without interruption.
Subscription plan:
Yearly
Description :
ThingPark Enterprise features
The license will be renewed automatically after one year. You will receive automated reminders and you may cancel or resize the subscription through Actility support.
ThingPark Enterprise is the leading LoRaWAN private networking solution, managing over 35,000 gateways worldwide and delivering carrier-grade technology tailored for the enterprise and industrial markets.
ThingPark Enterprise streamlines your digital transformation, eliminating wiring for most sensors, enabling indoor/outdoor tracking, and many other use cases.

ThingPark Enterprise supports the largest selection of Gateways, Devices, and Apps.

Streamline IoT network operations. The UI provides wizards to easily build a multi-gateway LoRaWAN network and feed data to IoT applications and platforms, or your local MODBUS / OPC-UA industrial automation PLCs. Dashboards provide key operational insights & alarm management.

Dependable industrial infrastructure leveraging the same technology trusted by leading service providers to deliver a secure and field-proven solution. Our ISO 9001 QA process (1,000+ tests and 4 weeks of field testing for each release), ensures that you will never have to serve thousands of orphaned devices.

Any use case, anywhere. With 10+ years of field experience worldwide, we support the integration of remote sites for all regional radio regulations and offer the widest device interoperability, including driver support and ontology normalization. ThingPark offers hardware-independent gateway management tools, and ready-to-use Connectors to all leading IoT back-end platforms: AWS (AWS IoT, GreenGrass), Microsoft Azure (IoT Hub, IoT Central, Event Hub, Teams), SAP, Software AG Cumulocity, ThingsBoard, ThingWorx, and many more.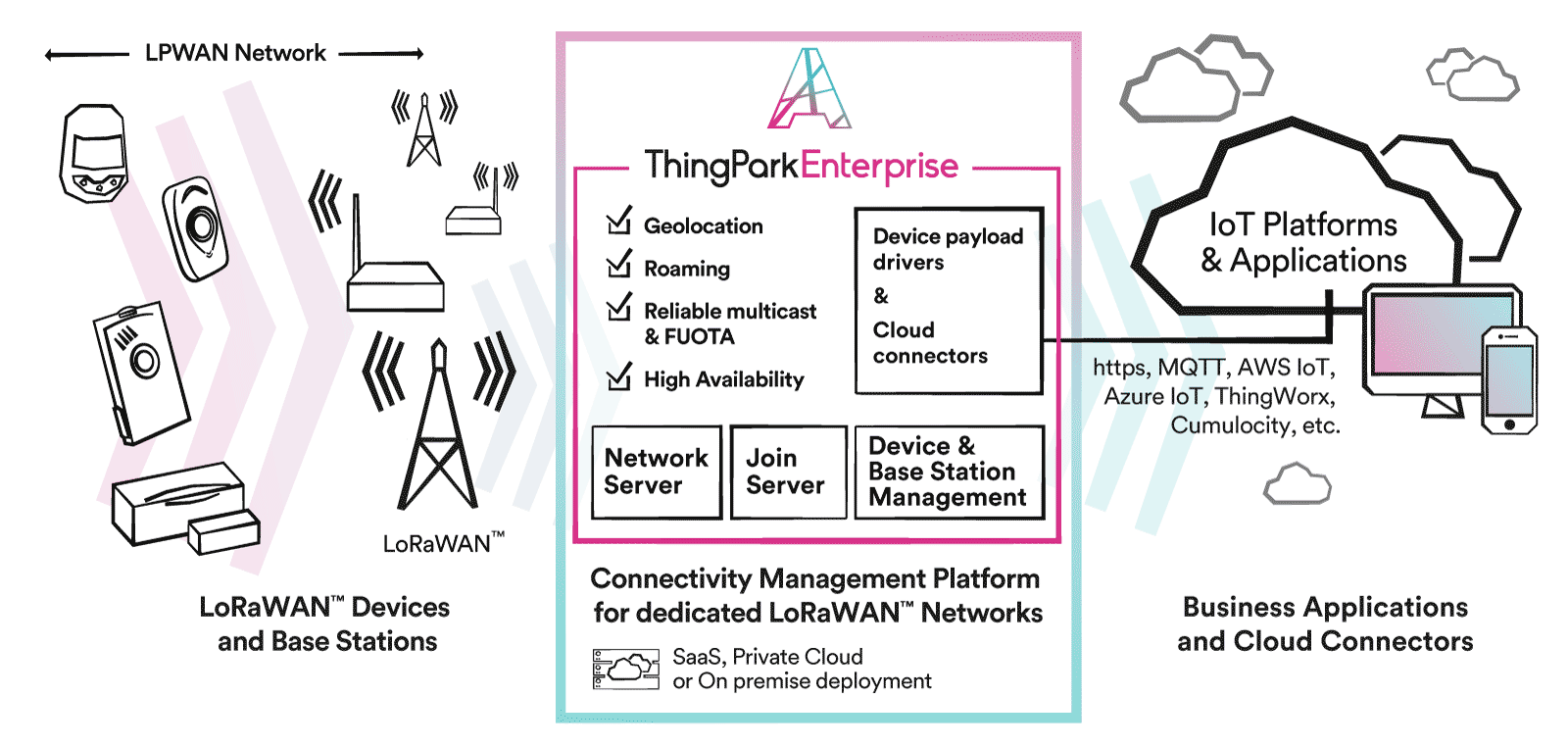 Usage Information
Software as a Service (SaaS)
Software as a service is a delivery model for software applications whereby the vendor hosts and operates the application over the Internet. Customers pay for using the software without owning the underlying infrastructure.
Share your thoughts for:
ThingPark Enterprise SaaS Starter Pack
No questions asked yet.
Vendor Questions/Answers: