Advantech - Predictive Maintenance Solution Starter Kit
AI-based Intelligent Predictive Maintenance Solution for Rotating Machinery
An AI-based solution supporting the machine operation team in realizing machine prognostic and health management. By providing the real-time and next seven days' machine healthy index, including ISO 10816 and degradation level, the PHM solution enables the owner to monitor multi machines' status in one stop. Moreover, proactively act according to future machine status instead of routine inspection, preventing machine breakdown in advance.
Usually delivered in 14 working days
Production ready
Product design is finalized. Bill of Materials is finalized. An initial important batch of products to make the SKU commercially available is required, meaning no inventories are currently available and lead time is in months. All final certifications are not obtained yet but pre-testing has been operated and seller is 100% sure to obtain them. Datasheet and user guide should already be available.
Key features highlights :
Solutions to Proactively Keep Facilities at Productive Status.
---
Our customers benefit from our avoidance of lengthy processes such as data connection, preprocessing, model development, and inference engine development. With the finetuned pre-trained model, users can expect to gain the inference result within two weeks of sensor installation.

Why Advantech - Predictive Maintenance Solution?

Speed up implementation – Skip data processing by using an unsupervised algorithm.

Easy implementation – AI solution bedded in hardware. Open to-go package.

Precise machine status prediction – Reliable inference result.
Support Model Retraining – Refine the model while repositioning the sensor or refining the model performance.

Our starter kit includes:

---

1 x Device WISE-2410 vibration sensor
1 x Device WISE-6610 Gateway
3 x months - Subscription to Advantech PHM Service for 2 channel
3 x months - Subscription to ThingPark Enterprise SaaS Service
How Advantech - Predictive Maintenance Solution Works?
Pretrained model implementation - Automatically analyzes the data preprocessing, feature value selection, and deep learning model processes.
Degrading level - The degrading level indicates the machine's rotating signal status compared to a healthy device. To establish an efficient maintenance strategy, the operators could set the index threshold based on the experts' experience.
ISO 10816 - ISO 10816 is a national standard that regulates vibration signal management. Using multi-indexes, you can monitor your machine and keep an eye on your production line.
Get to know more about the solution by watching our webinar talking about Intelligent Motor Predictive Health Monitoring & Management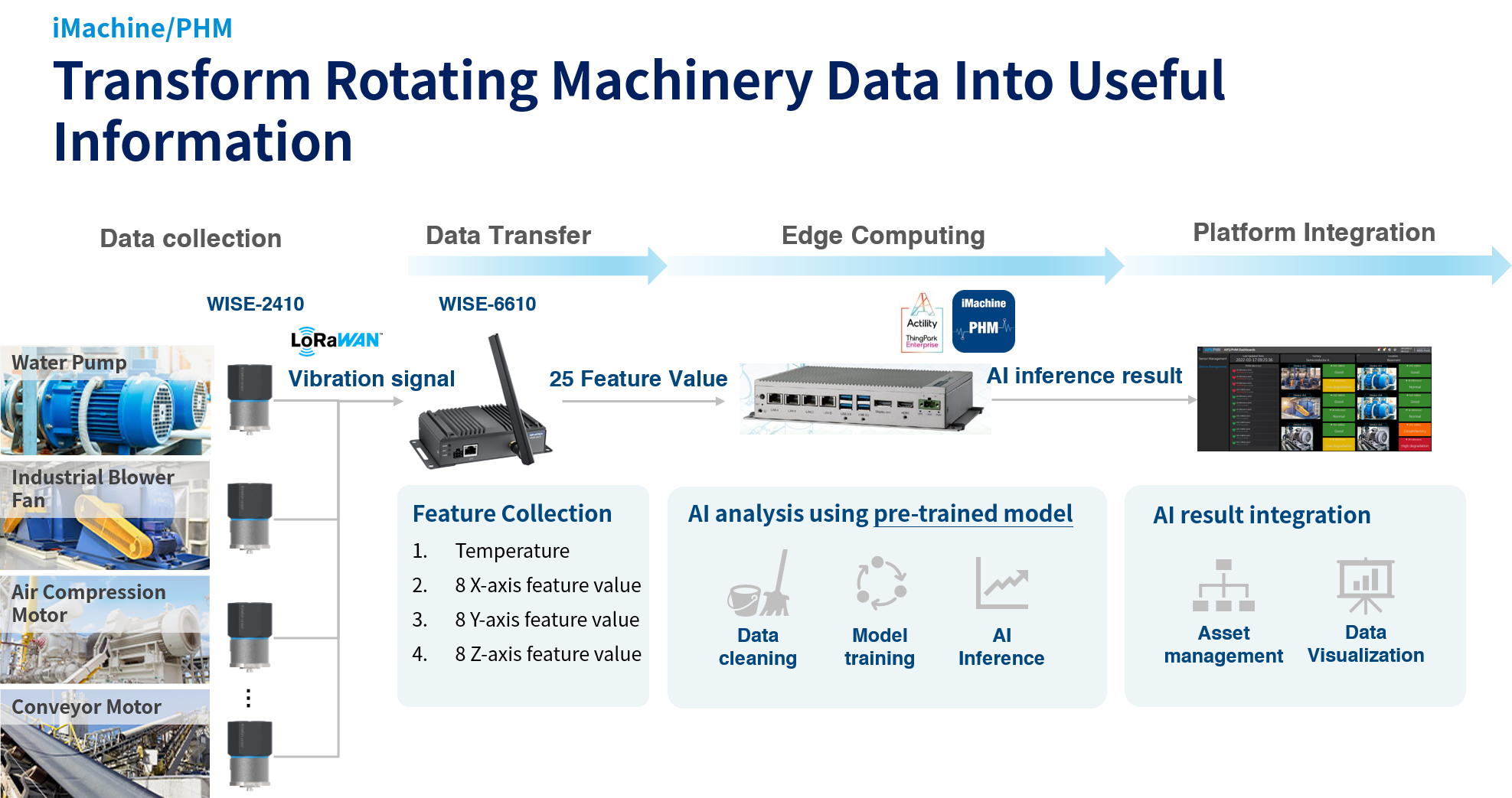 .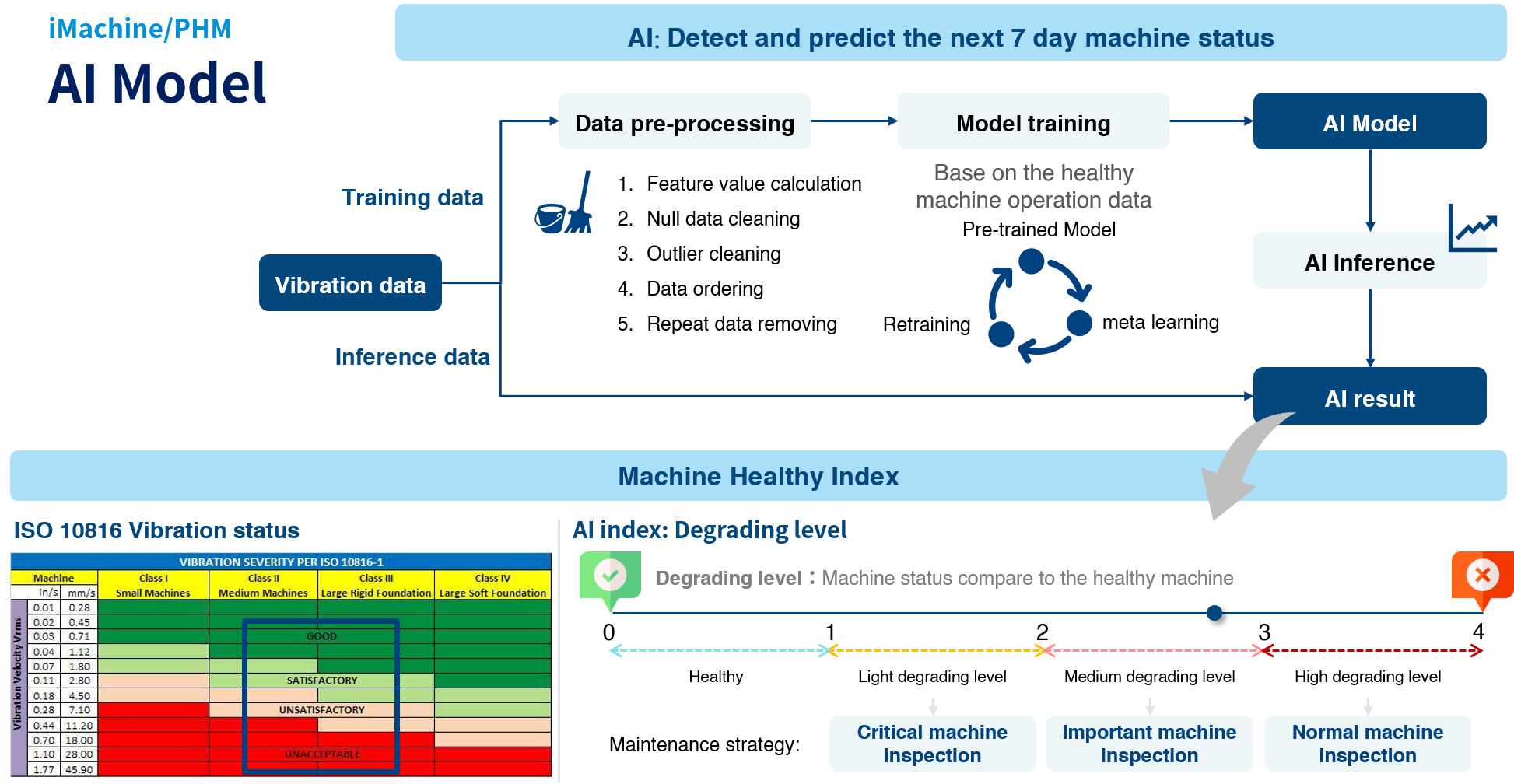 Description :
Solution to Prevent Unexpected breakdowns
Advantech: WISE-2410

The WISE-2410 device follows ISO 10816, which provides guidelines for the evaluation of machine vibration by measurements on non-rotating parts. Such as motors, pumps, fans, compressors, gearboxes, blowers, dryers, presses, and rotating machines that operate in the 10 to 1000 Hz frequency range.

WISE-2410 balances the wireless bandwidth between it and the gateway, so it also mitigates the data transmission fail rates between edge devices and gateways.

Interoperability

- Pre-integrated with

Actility Application dashboard for

simple decoding and encoding

services.

​

Multimarket senor

type of device

provides a robust and resilient

solution to support different

environments.

Advantech: WISE-6610

The WISE-6610 is a high-performance LoRaWAN gateway that offers reliable connectivity for industrial environments. It supports the LoRaWAN protocol for building LoRaWAN private and public networks, as well as various protocols including MQTT. The hardware and software flexibility of the WISE-6610 provides rich features for edge intelligence systems, and its support for VPN tunneling with various protocols ensures safe communications.

The WISE-6610 also provides a network server that can phase the LoRaWAN data in our device. The WISE-6610 provides the redundancy-enhanced functions to prevent connection loss.

LoRaWAN protocol for closed and public system application
Redundancy-enhanced functions for continuous data transmission
Enhanced memory for hosting custom software applications
Low power consumption for solar and battery power applications
Ethernet and I/O for connecting a wide array of field assets
DIN rail and wall mounting design
Long-range wide area IoT gateway
RED compliance

ThingPark Enterprise - Low-Power Wide-Area Networks for the Internet of Things Leader

ThingPark Enterprise is the leading LoRaWAN private networking solution that streamlines the digitalization of your business processes by connecting your most valuable assets with efficiency.

Deploying ThingPark Enterprise, you will benefit from a dependable, secure, and scalable private LoRaWAN connectivity infrastructure to enable a wide variety of IoT use cases.

ThingPark Enterprise streamlines IoT network operations, providing enterprises with a proficient UX to easily build a multi-gateway LoRaWAN network and feed data to IoT applications. ThingPark Enterprise dashboards provide key operational insights & alarm management.

Your LPWAN gateways and devices are managed by a fully geo-redundant platform with 24/7 supervision.

Advantech - iMachine/PHM

iMachine/PHM is your best smart machine management booster.

We assist the maintenance crew handles the historical, real-time, and future machine data.With the predictive maintenance solution, you can smartly arrange the human power and resources, realizing smart machine management.

The iMachine/PHM solution provides the best user experience on your transformation tour.

One stop monitoring – Over machines' vibration signal.
Concrete machine healthy status metrics – fits the ISO 10816 standard and machine degradation level.
Notification at once – machine status warning message.
Data visualization – monitor the data in one page.
Share your thoughts for:
Advantech - Predictive Maintenance Solution Starter Kit
Reviews:
No questions asked yet.
Vendor Questions/Answers: