Actility - IoT Indoor Air Quality Monitoring Starter Kit
Indoor Air Quality Monitoring Solution is focused on creating safer and healthier indoor environments, protecting students, workers and meeting air quality regulations levels through means of controlling and monitoring CO2 levels and people's presence.
* Actility global IoT SIM is a simcard that allows private LoRaWAN networks anywhere, without any installation hassle, and with no hidden costs.
Note: If you choose the EU868 configuration, your kit will contain the Ufispace Indoor Gateway. Else, it will contain the Browan Pico NEXT LTE Gateway pre-installed and configured for AS923 & US915.
​For detailed documentation and step-by-step setup instructions for this kit, refer to the Product information/Technical documents section below.
Powered by Elsys.se, Parametric, Actility ThingPark, and WMW.
Commercially available
This product is already in mass production. Production batches are in route or stock is available. All certifications for the regional areas where the products are sold are obtained from competent institutions.
Key features highlights :
Monitor indoor areas' air quality to ensure their occupants' safety, health, and wellbeing.
---
The IoT Indoor Air Quality Monitoring solution is a technique and technology dedicated to monitoring indoor areas' air quality in schools, workspaces, hospitals, and government buildings to ensure its occupants' safety, health, and well-being.

CO2 concentration is a key indicator of air quality. The higher the CO2 value in a building, the less comfortable it becomes for the people inside. In poorly ventilated rooms, the CO2 concentration increases rapidly. Optimizing air quality in rooms is essential for more healthy and productive indoor living and working conditions.

The IoT Indoor Air Quality Monitoring:

Measures the indoor concentration of CO2, temperature, humidity, and light in an automatic manner and in real time.​
Triggers automatic mitigation actions based on the presence and flow of people ​
Helps reduce the spread of COVID-19, by alerting when clean air must be brought in and potentially contaminated air removed.​
It is an intuitive, precise, and plug-and-play monitoring solution.​
Interacts with humans and machines to understand the customer environment, context, and data qualifications.

Evaluation Kit Content

---

1 x Elsys.se ERS-CO2 sensor (included)

1 x Ufispace Indoor Gateway for EU868

1 x Browan Pico NEXT LTE Gateway pre-installed and configured for AS923 & US915

3 x Months subscription to the WMW application

3 x Months subscription to ThingPark Enterprise SaaS service

Options

---

1 hr. of technical assistance during the trial period

Parametric PCR2 sensor

Elsys.se ERS-CO2 sensor
Description :
How does this kit work?
---
1) If a KPI falls out of the preset range, an alert notification is sent to designated contacts via SMS or email. And will take instant corrective action. ​
2) Service personnel will do the required corrective action, like enabling ventilation flow in the designated area.
3) Authorized people's presence capacity is monitored in indoor closed areas, preventing over-flooded zones.​
4) Automated compliance reports for all monitored facilities areas are produced on a daily, weekly, or monthly schedule and delivered via email.
CO2 – Indirect Impacting Risks COVID-19
A high amount of CO2 in the air means also a high number of aerosols. A high concentration of aerosols increases the risk of infection for everyone else in the room.​​
When a person infected with the coronavirus coughs, speaks, or sneezes, a spray consisting of droplets and aerosols are generated, penetrating air in the room and then spreading.​
Non-ventilated indoor spaces can increase the likelihood of aerosol transmission of Covid-19. Insufficient ventilation may lead to a long-range airborne transmission of the virus and opportunistic infection.
Indoor climate plays a key role in health protection, as pathogens remain in rooms for hours at typical air exchange rates in residential and office buildings. Air renewal takes considerable time. As such, an increase in the fresh air supply is recommended.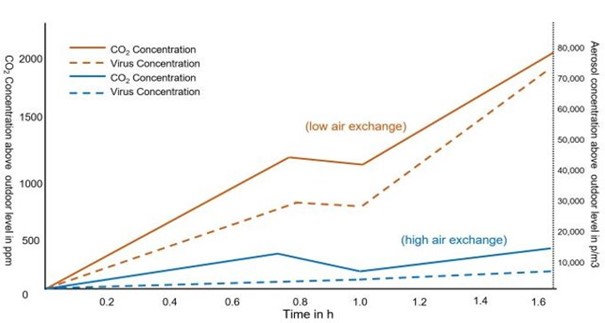 An off-the-shelf pre-integrated Air Quality Monitoring solution combining five solutions
---
Elsys ERS-CO2

ERS CO2 indoor sensors have the capacity of measuring the CO2 level, temperature, humidity, and luminosity of an indoor environment. This data is reported to the application to activate events and alerts based on preset KPIs. You will have full information and control over the air quality. As well, it detects motion with a Passive Infrared (PIR) sensor to monitor people's flow to help to prevent over-flooded zones. This is a smart and professional LoRaWAN® device and very easy to configure. Its minimalistic design makes it ideal to mount on walls for indoor monitoring.

These sensors are mounted inside school classes, rooms, offices, shops, and corridors for 24/7 environment monitoring. Threshold KPIs are activated and configured through NFC and Android smartphones.​

Presence is detected through the Passive Infrared (PIR) sensor and reported to the application as well.

The Elsys ERS-CO2:

Supports self and manual calibration methods.
Is Multi-Wireless US 902-928, EU 863-870, AS 923, AU 915-928, KR 920-923, RU864, IN865, and HK923​
Possesses the certifications RoHS, RED/CE, and comply with Part 15 of the FCC Rules and with Industry Canada license-exempt RSS standard(s).

Parametric PCR2 Indoor People Counting Sensor

An integrated dual-channel radar transmitter to enable directional people counting (left/right).​ Configurable via USB, or Downlinks.​

These sensors are mounted sidewise or overhead to detect people passing by. Cannot be used to detect people sitting in a room.

Features of this device:

Camera-free people counting (GDPR compliant)
Resistant to temperatures -20°C to +70°C ​
Multi-Wireless US 915, EU 868, AS 923, and AU915.
Certifications - EN62311 (EMF), EN301489 (EMC), EN62368 (Safety), ETSI EN 300 220-2 (Spectrum Use), LoRa Alliance Certified, NTC Philippines Type Acceptance
Swiss made
Up to 4 years warranty

Low-Power Wide-Area Networks for the Internet of Things Leader.

ThingPark Enterprise is the leading LoRaWAN private networking solution that streamlines the digitalization of your business processes by connecting your most valuable assets with efficiency.

Deploying ThingPark Enterprise, you will benefit from a dependable, secure, and scalable private LoRaWAN connectivity infrastructure to enable a wide variety of IoT use cases.

ThingPark Enterprise streamlines IoT network operations, providing enterprises with a proficient UX to easily build a multi-gateway LoRaWAN network and feed data to IoT applications. ThingPark Enterprise dashboards provide key operational insights & alarm management.

Your LPWAN gateways and devices are managed by a fully geo-redundant platform with 24/7 supervision.

WMW: Healthy space monitoring application

WMW is a hub where you can collect and distribute data. This version of WMW offers you diverse features such as device management, employee management, infrastructure management, and a ruling system to set alarms.

This application will help you to manage an entire facility/building and be presented with a complete overview of its operational health status, ensuring people are kept safe and in perfect environmental conditions.

Possible actions for Building / Floor / Rooms​

Set up all assets​
Connect and monitor all sensors.​
Centralize data readings in a single place.​
Detect and alert upon pre-defined thresholds and KPIs.
Export and share information across the business.
*Optional backhaul as a service with Actility global SIM
---
Streamline delivery, installation, and operational processes with Ready-to-Use Pre-connected LoRaWAN gateways including backhaul connectivity powered by Actility global IoT SIM.
Pre-configured LoRaWAN gateways are ready for the plug-in, minimal-cost installation. However, due to IT security policies, it is increasingly difficult to use the existing LAN for backhaul IP connectivity. The perfect solution is to equip LoRaWAN gateways with our global IoT SIM: just ship to the customer site, and the private network will be immediately operational as soon as the gateway is plugged into the main power.
For the list of supported countries per region, visit here. Don't hesitate to get in touch with us if your country is not on the supported list.
Note: The service is primarily restricted to LTE-only coverage. If you are in a region that has only 3G coverage, please contact us.
Share your thoughts for:
Actility - Indoor Air Quality Monitoring Starter Kit
No questions asked yet.
Vendor Questions/Answers: