SODAQ LoRaWAN Cattle Tracking EVA-M8M US915
Commercially available
This product is already in mass production. Production batches are in route or stock is available. All certifications for the regional areas where the products are sold are obtained from competent institutions.
Key features highlights :
Contains a solar panel to charge by the sun as well as an integrated LiPo battery. Furthermore, utilizes Bluetooth, LoRa technology, an 868/915 MHz antenna, and GPS for efficient communication as well as a robust housing with a counterweight to ensure the device stays waterproof and endures in all sorts of weather conditions.
Description :
Are you a cattle farmer, or have access to market in the livestock industry? With our SODAQ Cowtracker, you can now start tracking cattle anywhere in the world. For communication we have embedded a Microchip LoRa module, so the devices can connect either over a public network, such as Everynet or The Things Network are deploying. We also offer Lorix Gateways, which in combination with the cattle tracker serve as a fully private, autonomous solution.
One of the main issues that many cattle trackers have is the necessity of constantly charging the battery by manually plugging them into charging stations. Having to constantly monitor the battery level of the tracker and to check it's charge is extremely time consuming. To solve this issue, we designed the tracker to have a 0.5W solar panel that harvests energy from the sunlight. Moreover, the tracker uses an integrated LiPo battery that holds the charge for longer periods of time and is guaranteed to charge whenever the solar panel is exposed to sunlight!
Another significant benefit offered by the SODAQ LoRa Cowtracker v2 is that it is fully customisable with Arduino code. This implies that not only are you able to utilize a range of open-source software, but you are also able to ensure that your device never becomes outdated as you can always upgrade it's functionality yourself. This provides the added benefit over traditional "plug-n-play" devices as you are able to avoid the risk of becoming dependent on the manufacturers' devices without options for bug-fixing or customisability. 
Demo: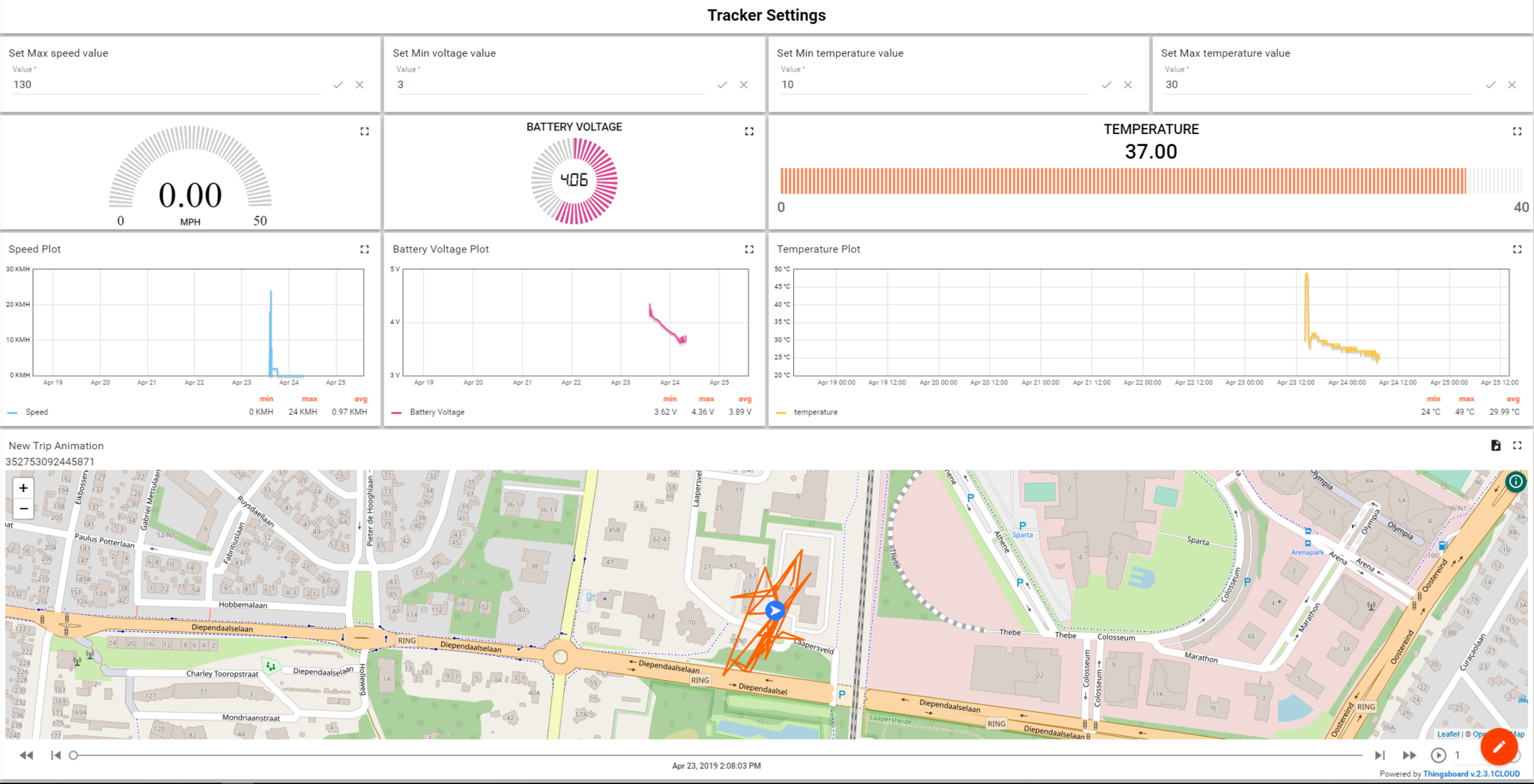 Use Cases:
A product that looks like it could work, like a prototype, is good. But products that are actually working are even better. We are proud to say that our Cattle Tracker has been used extensively in the field all around the world. As an example we like to highlight one of our clients whom has utilised 50 units in the Bavarian Alps using TTN. Amongst other things, he measured the location of his many cows and managed to visualize these as seen below.
How does it track location?
How can you see the location? Well, SODAQ's tracker uses Bluetooth, LoRa technology, an 868/915 MHz antenna and GPS for effective geolocation and communication! Thus, a person or system monitoring the animal is able to track wherever the animal goes. As well, the GPS tracking system is connected to the internet over LoRa to share its own location.  
Specifications and Datasheet
Features:
Power-efficient Atmel SAMD21 Microcontroller
0.5W Solar Panel and 2200mAh Lithium-Polymer battery
GPS tracking using the u-blox EVA M8M module
Minimum 3 year battery life and 2 weeks without recharge
LoRa enabled for 868 as well as 915 MHz and optional bluetooth
Weather and wear resistant: Tested on cows, horses, wildebeest and reindeer
Arduino-compatible/programmable
Specifications
Measuring range: (distance from gateway) between 5-50km
On-board neopixel LED and SD card Improved antenna range
GPS accuracy: Under 30m depending on active time of GPS module
Operating Conditions:  -20 ... +50 °C
To view the full datasheet click here
What should you order?
For smaller orders, it is easy to follow the steps yourself to install a cow tracker (or a few). These can be visualized on many platforms and we offer good support at learn.sodaq.com or on our forum (http://www.forum.sodaq.com). For larger orders, we are glad to help for custom installations and other required adjustments. Whether its 50 units, or 1000 units, we are experienced with large clients and are undoubtably able to offer you value. 
Business Pricing Table
We always want to offer the highest value for money for a business. Therefore, we have a quantity discount scheme for almost all of our products. You can realize these discounts by sending us an e-mail and requesting a quote. This table can be viewed below:
| | |
| --- | --- |
| Units | Discount |
| 1  | 0% |
| 10  | 10% |
| 25  | 15% |
| 100  | 20% |
| 250  | 25% |
| 1000  | 30% |
Still not convinced? Let's put this into perspective. Imagine you have a project with 10 Cattle Trackers. The cost of this order without discount would be 1680 euro without tax. With discount, this order would be 10% off and hence 1512 euro without tax. If you ordered 25 units, the order would be 15% off. The full table can be visible below:
Theoretical SODAQ CATTLE TRACKER Discount Table (excluding tax)

| | | | | |
| --- | --- | --- | --- | --- |
| Units | Price Before Discount | Discount | Price After Discount | Savings |
| 1.00 |  €         168.00 |  €               -   |  € 168.00 |  €               -   |
| 10.00 |  €     1680.00 |  €         168.00 |  €    1512.00 |  €         95.00 |
| 25.00 |  €    4200.00 |  €      630.00 |  €    3570.00 |  €       356.25 |
| 100.00 |  €    16800.00 |  €    3360.00 |  €    13,440.00 |  €    1,900.00 |
| 250.00 |  €  42,000.00 |  €   10,500.00 |  €  31,500.00 |  €    5,937.50 |
| 1000.00 |  €  168,000.00 |  €  50,400.00 |  €  117,600.00 |  €  28,500.00 |
Feel free to contact us at info@sodaq.com for more information on your project and to get you a quote.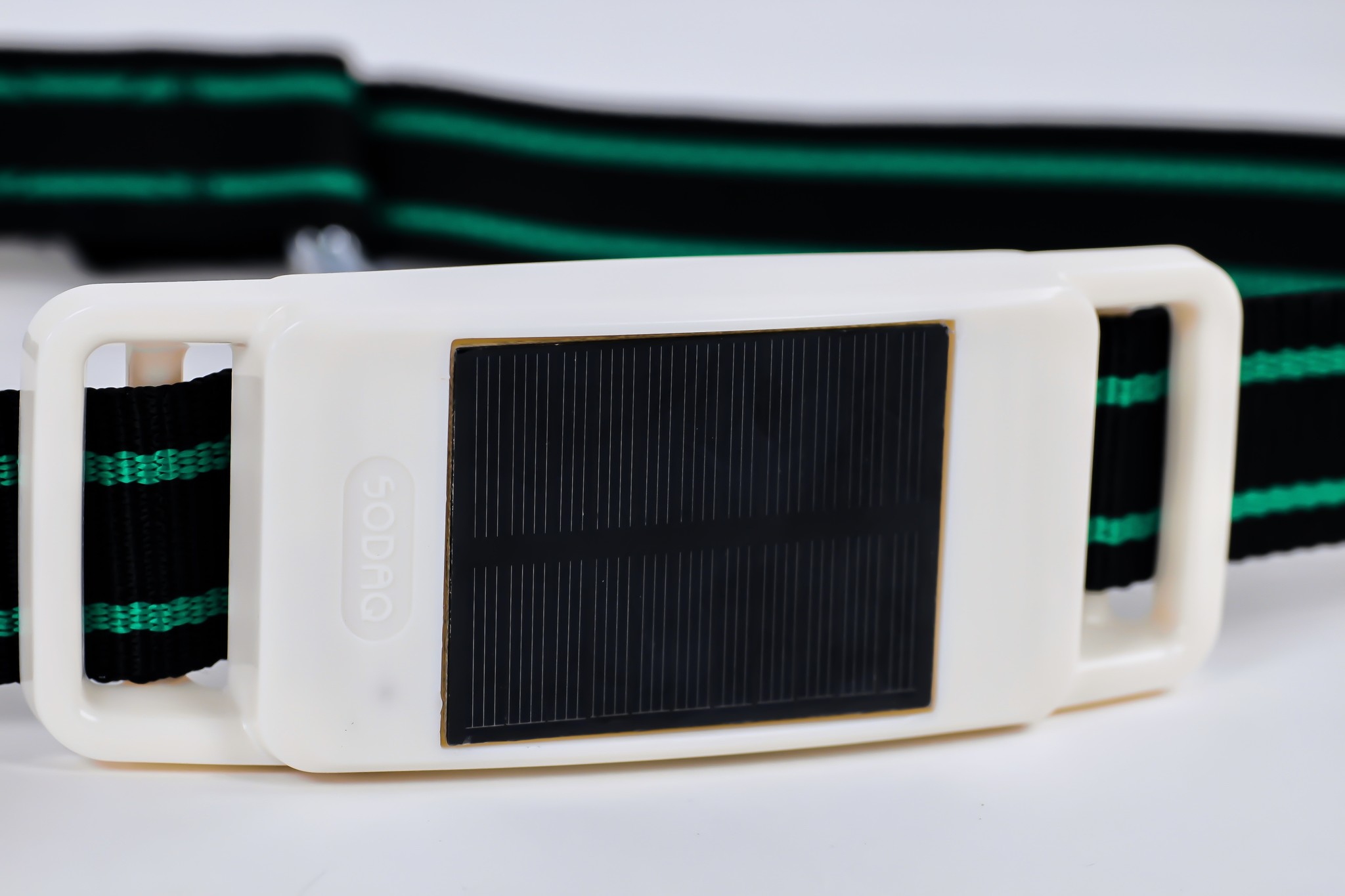 Specifications :
Seller
SODAQ
Manufacturer name
SODAQ
SKU
149-0055
Manufacturer Part number
SAM-EVA-M8M-US915
RF Region
US915 - US 902-928MHz
Power supply
Rechargeable battery
Battery type
Other
Antenna
Integrated
Depth (cm)
18
Width (cm)
7
Height (cm)
3
Seller conditions
Seller commercial condition
Seller shipping condition
Share your thoughts for:
SODAQ LoRaWAN Cattle Tracking EVA-M8M US915
No questions asked yet.
Vendor Questions/Answers: