This is the area where you can showcase your own company information and brand to the Thingpark Marketplace community.
Step 1
In order to add your vendor Brand Page/Microsite, you must first register to be a seller via Market.thingpark.com.
Step 2
On Left Hand Navigation, click on Product Manager.
Step 3
Under My Products, you will find a dropdown menu. Select Parter Brand Page. Next select Partner and then click on Add Virtual Product.
Step 4
Next complete your company detail information. To have a complete Brand page, complete the following fields. *= Indicates required fields
Brand Information
Title

Instructions

Example

*Identification Name = Brand name

Enter the Brand you represent or your company name

Example: ThingPark

*Description = Description of your Brand

Provide a description of your company/brand for potential buyers. A word count between 200 to 300 words is ideal. You can go up to 1000 words.

As for your product description, please avoid copying and pasting from your website.

Reworking your Copy / Paste is key: change the word order, find word synonyms, contextualize your product description within a marketplace environment… are best practices



Example: Actility is an industry leader in LPWAN (Low Power Wide Area) large scale infrastructure with ThingPark™, the new generation standard-based M2M communication platform. Actility's ThingPark Wireless™ network provides long-range coverage for low-power sensors used in SmartCity, SmartBuilding and SmartFactory applications. Actility also provides the ThingPark Cloud which provides big data storage for sensor data and exposes sensor function through an open API allowing developers to provide vertical applications on top of rolled out sensors. To help vendors transform their sensors, Actility provides the ThingPark IoT platform which include embedded software solutions and cloud solutions to help devices connect to innovative applications. Via the ThingPark Store™, an online marketplace engine dedicated to the IoT sensors, applications and network solutions, Actility enables the roll-out of new innovative IoT services for sensor vendors and network solution vendors. Actility is a founding member of the LoRa® Alliance: the largest, most powerful standards-based effort to enable the Internet of Things (IoT). Visit www.actility.com.
Partner Page
| | | |
| --- | --- | --- |
| Partner Type | From the dropdown box select the best description of your company. You may choose more than one section. | Example: Enabler |
| Year Established | Enter the Year your company was established | Example: 2011 |
| *Business Location | Your Primary business location | Example: Paris |
| Other Business Locations | If you have other business locations | Example: Singapore, USA, etc |
| Number of Employees | You can choose from the dropdown menu | Example: 100 |
| Total Annual Revenue | Optional | |
| *Terms and Conditions | Here you will enter the terms and conditions that apply to the buyers of your products. | Example: Make sure to clarify product fulfillment, return policy, guarantees... |
| Shipping Conditions | Here you will enter your global shipping conditions. You also can place shipping conditions on each of your products via the product page setup. | Example: Shipping Terms WW, by continent, country, and etc |
| Solution Represented | If your product represents a certain industry, you can choose from the dropdown list | Example: Energy |
SEO/Metatags
Meta tags are best used when exactly describing the product. Your tags should be accurate, relevant, and descriptive. These tags do not appear on the page itself, but on the page's code. Some basic guidelines:
Meta Title

Optimal length is under 70 characters, most important keywords need to be first in your title tag (and usually your brand name at the end). Please limit your meta title description to 42 characters as "ThingPark Market by Actility" will be automatically added at the end.

Please, add calls to action in the extent possible ("buy", "browse catalog","purchase") if possible.


Example : Solvera Lynx | Energy management | Buy online

Meta Description

Recommended Meta description is between 150 and 160 characters. Try to use an active voice and a call to action.

Example: As an energy management company - sectors of energy, utilities, industry, buildings and railways - we improve your competitiveness. Buy online on ThingPark Market!
Images
Here you may add images that represent your brand. Product images can be in a TIFF, Jpeg, or PNG format.
You need to upload two images
➢ Upload your two images in the dedicated section. Please see below for the prefered requested format.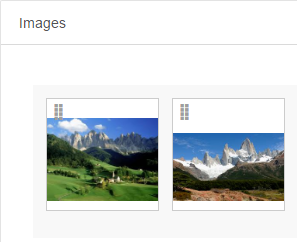 ➢ Click on each photo and set which one you want as a "small" or "cover". We do not suggest you have only one photo being both "small" or "cover" as the result is not showing well on our website.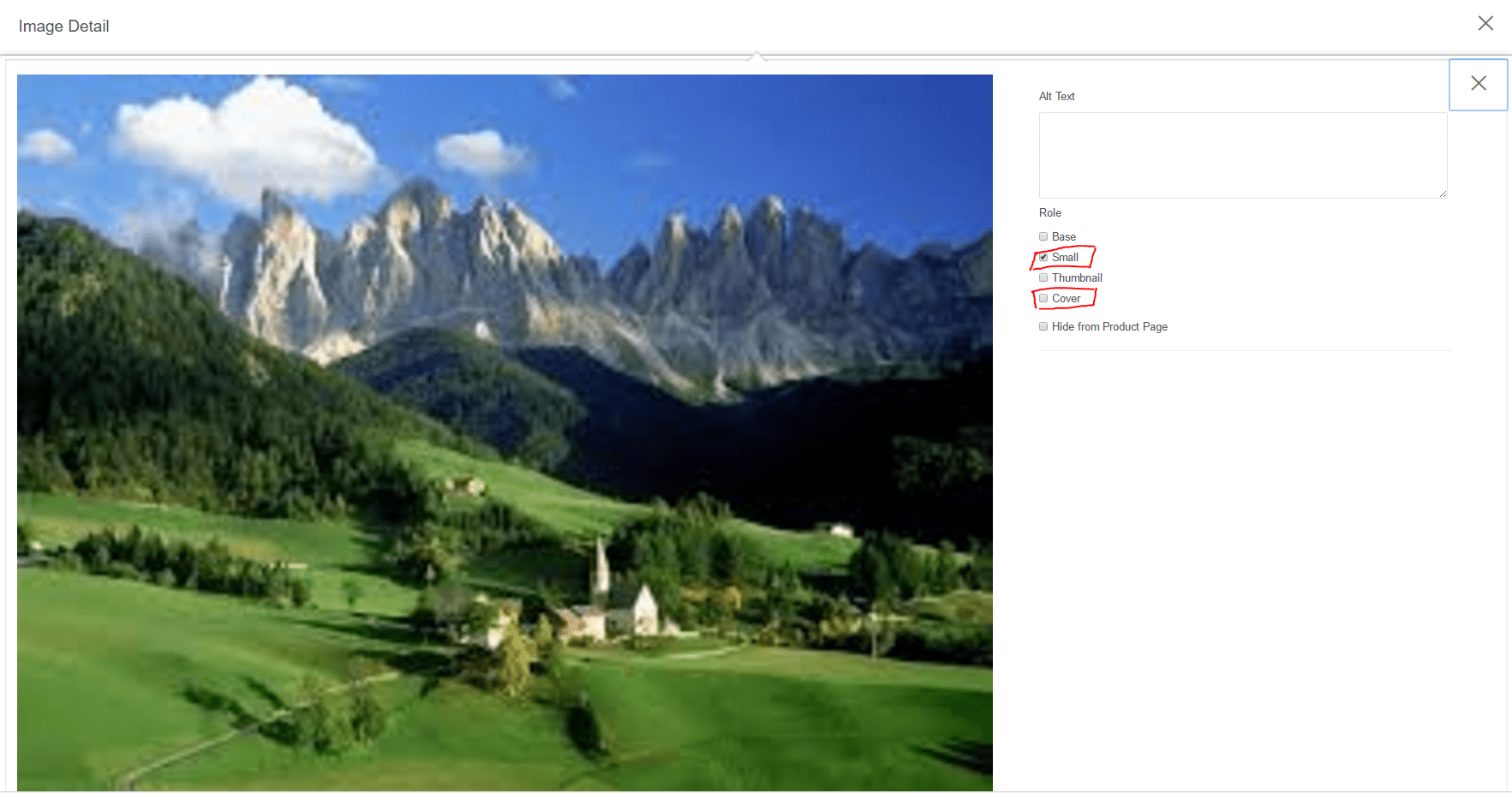 ➢ Photo set up as "small" is showing in "Our Sellers" dedicated page and should not exceed 600 x 300 pixels (2 by 1 report). Make sure to use a logo image

➢ Photo set up as "cover" is showing in Seller's dedicated page and should not exceed 1250 x 240 pixels (5 by 1 report). Make sure to place a lifestyle image.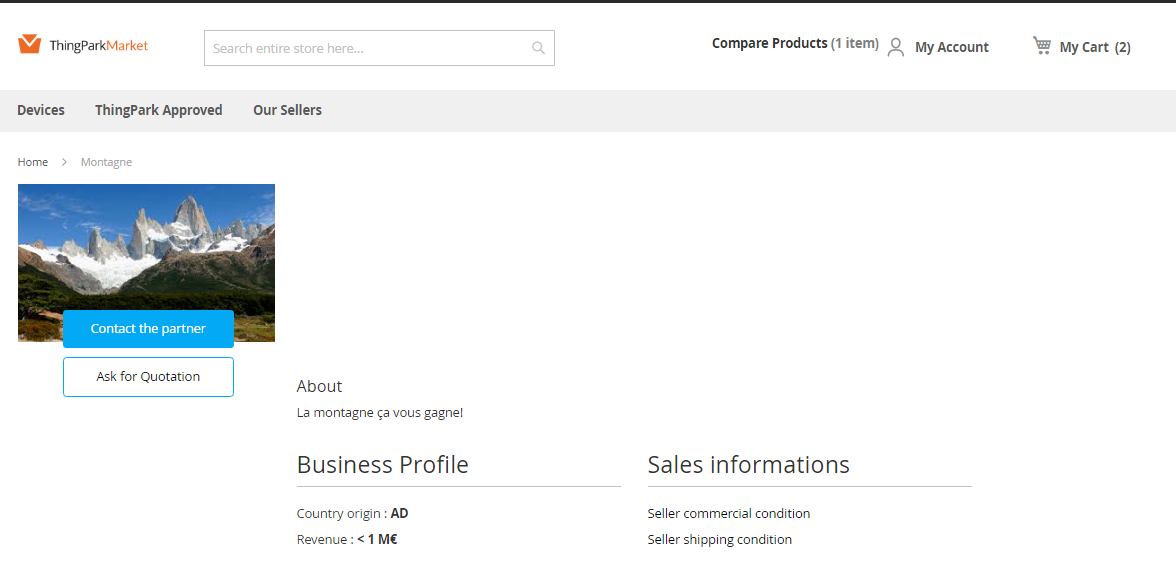 ➢ Input your alt text / Image description in the right hand side box form, describing the image in as much detail as possible, with keywords separated by hyphens. This will help to improve your brand visibility on the image search tool on search engines.
Example : Solvera-Lynx-logo
Upon completion of steps C., D., F. & F., ThingPark Market will be able to validate your first product pages.