*IMPORTANT: IF YOU DON'T SET UP YOUR SHIPPING RATES A BUYER CAN STILL BUY FROM YOU AND WHEN THEY PROCEED TO PAY FOR THEIR ORDER IT WILL NOT INCLUDE SHIPPING. THIS IS YOUR RESPONSIBILITY TO DO CORRECTLY.
Step 1:
On Left Hand Navigation, click on Shipping Rates

Step 2:
You will find a dropdown menu, please select either Standard Shipping or Express Shipping:

Next, select Add Rate.

Step 3:
Select you Shipping Country.
➢ Select ALL if you want to set one shipping rate for all shipments
➢ Choose All Europe if you want to set one shipping rate for all countries within Europe.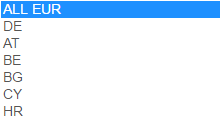 ➢ IMPORTANT: BE CAREFUL TO ADD SHIPPING RATES FOR EACH COUNTRY, NOT ALL COUNTRIES ARE IN EUROPE. IF YOU DON'T CREATE SHIPPING FOR ALL COUNTRIES AND IF A BUYER ORDERS FROM YOU AND YOU DON'T HAVE SHIPPING CONFIGURED THE SHIPPING WILL BE DEFAULTED AT €0.00.
I.e if a customer from America orders from you and you don't have your shipping set up for 'USA' but you have shipping rates set up for 'All Europe' then this buyer will not have to pay for shipping.
➢ If you wish to create shipping rates by country, select this specific country. You can select multiple countries, pressing Ctrl (or Command on a Mac) while clicking on the specific countries you want to select if you have doubts about the initials of the various countries please use the following link.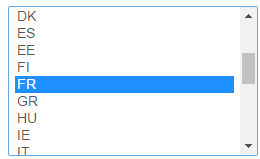 Select your Shipping Country or Clusters of Shipping Countries
Don't forget to SAVE!
Next, click on Add Condition.

Step 4:
Next Type in your price conditions based on the shipping weight in Kilograms.
➢ You can simply create one price for all shipping (and place 100 in the box "if condition up to")
OR
➢ Create various shipping conditions based on weight tiers in Kilograms such as this:
Set your condition rates and pricing. (Ignore sort order within condition)
Step 5:
If you would like to create another rate for another country or cluster group repeat step 6 by clicking ADD RATE

Step 6:
If you create multiple rates, it is important to set the Sort Order.
For example, let's say you want to set up two shipping rates: One for France and another for all of Europe. However, you want to ensure that the rate for France is prioritized. In this case you need to enter in sort order 1) for France and 2) for All Europe.
Example:
Step 7: Don't forget to save!
Don't forget to SAVE!
Step 8:
Express Shipping
To set your Express shipping, repeat the steps above by selecting Express shipping
.